Set on the magnificent Lebombo Plateau, Shewula Mountain Camp provides you with an opportunity to experience the traditional Swazi lifestyle in a beautiful natural setting. Comfortably nestled in a rustic yet modern rondavel, you will find your worries and stresses slipping away and replaced with a sense of serenity.
At the camp, you will find: 8 comfortable rondavel huts, 4 with 5 beds (2 bunk beds and a double in each) and 4 on -suite huts which can sleep maximum 4 people. The total capacity of the camp is 33beds people. Ideal for families groups and self drives. All buildings are made of local stone and thatch. Note that room allocation is per booking and in compliance with COVID restrictions.
A boma (open communal area) with a fully equipped kitchen and dining area, store room and a separate ablution facility with flush toilets and hot showers for use by guests. Facilities for self-catering meals as well as traditional menu prepared by the friendly camp staff adds to the Shewula experience. You may as well join the camp staff in preparing these mouthwatering Swazi menus which adds to your community experience.
Paraffin lanterns are used to light the darkness of the night. The camp chooses to leave the rondavels without electricity to enhance the traditional Swazi experience. However, there are electricity points for charging and ligthing the Boma area. Comfortable bedding for a good night's sleep s provided as well as a  refrigerator for storing your perishables.  A camping ground that can take at least 40 people is available with its kitchen area and water point.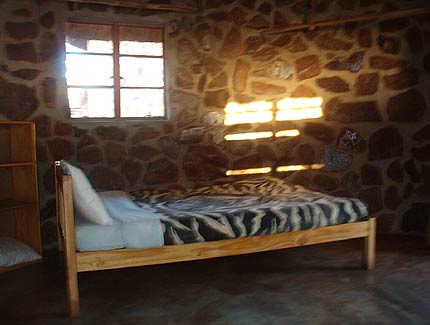 The majority of the food on offer is grown in the community, providing for traditional organic Swazi menus. Shewula is famous for its mouthwatering traditional menus that will replenish you after your day's activities. The experience of a romantic lantern-lit dinner in the boma is not one to be soon forgotten.